2017-09-07
How to cure quicker twisted ankle?
First of all I need to distinguish two things. Firs - I am not a doctor, second - I had twisted ankle many times so I know what helps cure quicker. I tried many medicines, listened to many advices and also I made few mistakes. Thanks to my experience you'll be able to recover much quicker from your injury.
This article is for those who really wants to cure faster twisted ankle and wants to be back in any sport activities. Does not matter if it's football, baksetball, running or something else.
source: Pixabay.com
GYPSUM
If your injury is not really hard and you think you can cure without doctor's help then it's gonna be much easier. However if you're gonna to visit a specialist, ask him to not give you gypsum. Ask him about his opinion. In many countries they always give it when you break leg or an arm. There are situations when you really need it. But ask him not to give you that. Better choice is orthosis. It also helps you not to move your leg and makes you safer. Orthosis is best choice which I recommend the most. In some countries this is a standard and is much more popular. I'm from Poland and few people use it.
Advantages of gypsum:
Stiffening - if you're student, you walk on crutches is much safer for you to be protected by gypsum. But as I said before the same thing gives you orthosis.
Disatvantages of gypsum:
You cannot remove them regularly what makes home treatments impossible to do.
ORTHOSIS
Advantages of orthosis:
You can remove them any time you want. You can take a bath or a shower normally. Removing orthosis let you makes home treatments. This is all gonna help you cure much faster.
Disadvantages of orthosis:
Unfortunately probably you'll have to buy it or rent it. If you're still growing up it might be worth to buy your own orthosis. You can rent it from medical shop or just from one of your friends. I always recommend orthosis but I never use them. I mean I just cured twisted ankle at home, so I was safe and I didn't walk actually. Remember that this choice might be risky at the beggining. You need to be very careful then.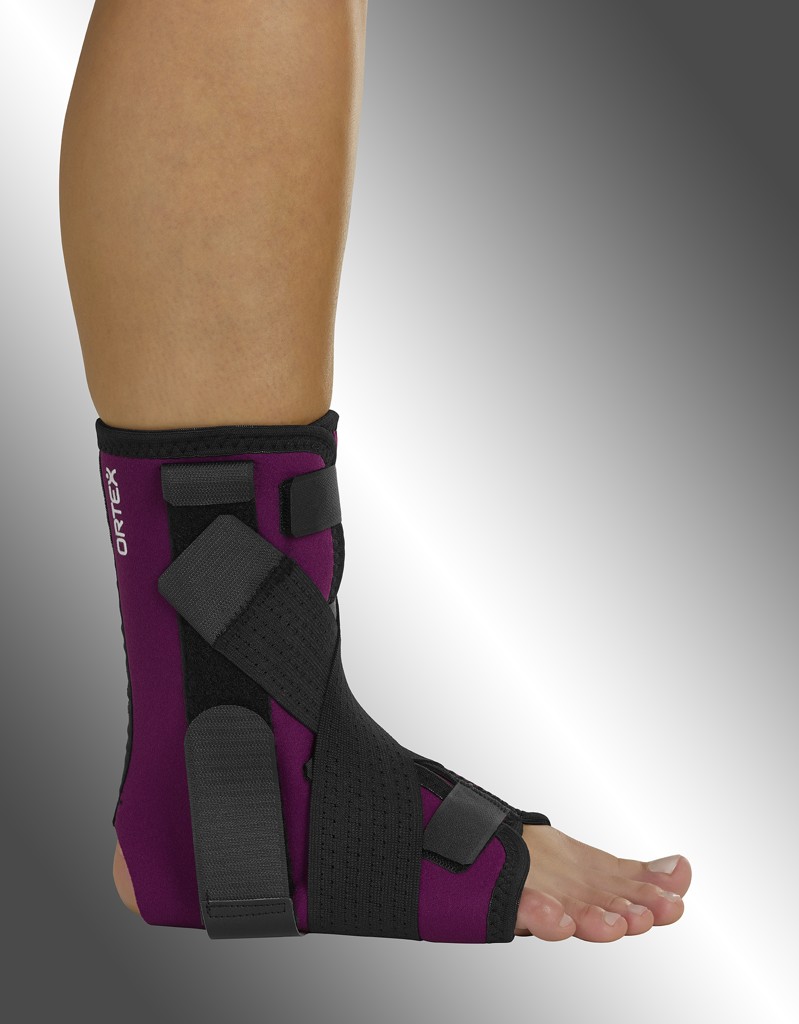 source: Dentimedshop.cz
What is worth to have when twisted ankle?
ICE
Helps you a lot at the beggining. Reduces pain and gently helps to get rid of swelling. Do not apply ice directly to the twisted ankle. Always do this by some delicate material: a cloth or even a thin towel. The maximum time for such a one-time treatment is 15 minutes.
CRUTCHES
You must have them. Especially in the first few days after the injury you absolutely can not stand even a bit on a leg with a twisted ankle. You do not have to buy them, just borrow them.
ELASTIC BANDAGE
Gonna be useful especially when you have twisted ankle not too hard. Also priceless during last stages of recover when you need somehing lighter than orthosis. Best for poultices, we will talk about them later.
source: Pixabay.com
ALTACET PILLS
Do not eat them! I recommend Altacet pills a lot. Probably it's famous not only in my country - Poland. Use pills, not gel. Pills are much stronger and have better performance. The tablet dissolves in boiled water and then the solution is dried in cotton wool. The watt is applied to the twisted ankle and then wrapped with a flexible bandage so that the poultice rests well on the treated area. I guarantee that after first use you will notice a decrease in edema. Each time you need to prepare a new solution.
Disadvantages? Stronger performance is reflected in the scent. Vinegar, which is also perceptible with the use of ointment, using the tablet is more intense.
If you do not have a altacet tablet then you can make your own solution with vinegar and boiled water. 2 spoons on a glass of lukewarm water. The performance is similar, although I personally always use tablets.
source: e-zikoapteka.pl
GREY SOAP
Grey soap - cheap, useful and checked. Gray soap baths are a great way to strengthen your hock. I'm not a chemist to explain exactly how it works, but I checked it on my own skin several times. It is important, however, that you do not make a simple mistake that can lead to an increase in edema. Water can not be warm.​
Better do it like this. Pour lukewarm water into a bowl and add some gray soap into it. Leave it to dissolve a little. This will cause the concentration to be higher and the water will further cool down. Cold water will help to overcome the swelling and higher concentrations of gray soap will have a stronger strengthening effect.
PS: I left gray soap in a bowl with a little water even for the whole night. It was an incredible boggy, but it was better when I poured more water into it. The water was thick, but the effects of the treatment were also noticeable.
source: Publicdomainpictures.net
PRINCIPLES WHICH MAKES TREATMENT FASTER
1. First week in do not stand on the leg with twisted ankle AT ALL. Even if you go to the kitchen to make a sandwich or to the toilet then try to hold that leg in the air. When you have gypsum it will be much harder. Then you can touch your leg with a pgypsum on the floor, but do not lean on it with your whole body. It's crucial, trust me. If you see a huge improvement after 3 days then do not suddenly stand on this leg! Just continue with the plan I will provide below.
2. Twisted ankle above heart. Everywhere you are, try to hold your leg with a twisted ankle above the heart line. This makes your blood flows down quicker and making your swelling less. When you sleep at night, put your blanket under your feet. As you watch television and lie on the couch, give your foot a backing. When you are in school, put your foot at least on a chair.
3. Make regular poultices. Consequence in the use of poultices is crucial. With the previous two rules, you can shorten your treatment by at least a week.
4. Don't force your return to the pitch. Don't make fool mistake. Even as your leg does not hurt, even if it looks good, even if you want finally move your ass and do something very much - BE PATCHED. One reckless step will make you start all over again.
źródło: KevinMD.com
EXAMPLE OF ONE DAY TREATMENT TWISTED ANKLE
1. Ice cover. Time 15 minutes (leg as high as possible, heart line level is the minimum)
2. Soak your feet in a bowl with a gray soap, lukewarm water. Time to 30 min.
3. Altacet pills poultice. Time is even an hour.
Especially at the beginning you can do even 3-4 such cycles. After 1-2 weeks, when you stop feeling pain you can put off the ice.
Honestly, I hope you read this article only because of curiosity. First of all, I wish you health. Hope that injuries gonna avoid you, and as soon as you have one, remember that this is just one of the many obstacles you will have to overcome to achieve what you are dreaming about.
Good luck!
---
---
Back